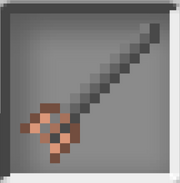 Die Armbrust-Bolzen ist eine spezielle Muntion, die für die Armbrust bentötigt wird. Sie ist mit dem Mod CustomNPC in das Spiel gekommen und ausschließlich in der Carpentry Bench craftbar.
Rezept
Der Tatsache, dass Eisen - insbesondere im Vergleich zu normalen Pfeilen - einen recht hohen Eintauschwert hat, wird mit diesem Umtauschverhältnis Rechnung getragen:
1x Eisen + 1x Feder = 3x Bolzen
Normale Pfeile sind zudem noch als Loot von Monstern (insb. Skeletten) zu erhalten. Dies mindert die Einsatzkosten nochmals, da weniger wiederbeschafft werden muss. Deshalb werden Verbesserungswünsche zum Rezept bzw. Wechselkurs des Bolzens gerne entgegen genommen!
Menü des NPCs
In den Munition-Slot des NPCs kann nur ein Bolzen gelegt werden. Er kann damit unendlich viele Bolzen verschießen. Das Menü sieht folgendermaßen aus:
Vor-/Nachteile der Armbrust vs. Bogen
Die Armbrust hat den Vorteil gegenüber dem Bogen, dass der Spieler, wenn sie gespannt ist, sich frei bewegen kann. Das heißt er kann gehen, springen und sprinten. Wird hingegen der Bogen vorgespannt und nicht sofort abgeschossen, bewegt der Spieler sich wesentlich langsamer und ist in seiner Mobilität eingeschränkt.
Der Nachteil der Armbrust ist, dass sie einen höheren Ressourceneinsatz bedarf (insb. Bolzen vs. Pfeil).
Die max. Schussweite der Armbrust entspricht der Schussweite des Bogens, wenn dieser vollständig gespannt abgeschossen wird. Die Armbust schießt somit im Maximum genau so weit wie der Bogen.
Der ausgeteilte Schaden ist ebenso gleich bei Armbrust und Bogen.
Die Armbrust kann ebenso wie der Bogen verzaubert werden.
Ad blocker interference detected!
Wikia is a free-to-use site that makes money from advertising. We have a modified experience for viewers using ad blockers

Wikia is not accessible if you've made further modifications. Remove the custom ad blocker rule(s) and the page will load as expected.