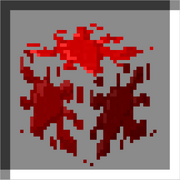 Rattenblut ist ein reiner Deko-Block aus dem Mod CustomNPC. Es sorgt für Bluttexturen auf schon bestehenden Blöcken und ist ausschließlich in der Carpentry Bench craftbar.
Anmerkung: Ich weiß, dass dieser Block mit unter etwas zu krass sein kann (zu grell, zu schrill...). Ich habe mich dennoch erstmal entschieden ihn einzubauen und euer Statement abzuwarten. Ich habe selber in dunklen Räumen mit wenig Licht ganz passable Effekt hinbekommen. Lest dazu auch noch im Rest des Artikels!
Rezept
Verwendung und Funktionsweise
Rattenblut sollte als Dekomittel dezent verwendet werden. Es kann sich, insbesondere im Zusammenspiel mit dezentem Licht, zur Gestalung von Quest-Areas und evtl. für dezente Highlights in der Spielwelt wie z. B. in einem Folterraum oder Hinrichtungsplatz eignen. Rattenblut ist ein Block wie jeder andere in Minecraft, jedoch komplett transparant und seine Texturen (Blut) wird nur angezeigt, wenn ein oder mehrere benachbarte Blöcke neben ihm anliegen. Somit entsteht der Effekt, als würde eine Bluttextur auf dem angrenzenden Block liegen. Ebenso stellt er für den Spieler kein Hindernis dar, sondern ist komplett "durchgehbar". Hier ein einfaches Beispielbild:
Ad blocker interference detected!
Wikia is a free-to-use site that makes money from advertising. We have a modified experience for viewers using ad blockers

Wikia is not accessible if you've made further modifications. Remove the custom ad blocker rule(s) and the page will load as expected.